TOUR PACKAGES
** In some of these program, services include Transportation and Hotels, but if you want Transportation services only, trip Bromo and Ijen, it is also available.
Click here...
** We provide several ready program for those who want to cut to the chase due to their limited time of stay- Each program can be modified, shortened and combined.
** Alternatively you may do it yourself your own itinerary based on what to see and send us an email, we will quote the standard price for you.
** From Yogyakarta : Your plan will go to Bromo and Ijen and than Bali, to get easier you can using Train and transit in Surabaya or Malang. We will pick you up, Private or Sharing transportation.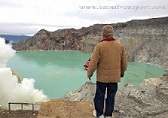 We have a combination of

Tour Packages

Bromo Ijen Baluran Sukamade and Overland Yogya Bali, and we are ready to accompany and serve your trip in this TOUR Bromo Ijen, departure can be done in Malang or Surabaya (Airport - Hotel - Stasiun), and finish drop can be done in Malang or Surabaya or Ketapang Port Banyuwangi, tour packages that we offer is suitable for tourist who want to stay in Bali.

So many interesting places to see and things in East Java especially in Malang. Sometimes everyone has different memories in this mountain, access location, weather and scenery it. Sometimes each individual has different preferences and option, where to go and what to do on this holiday. So we have prepared a list of interesting places to visit and good activities, also have prepared a list of tour packages and transportation standard price.

We have fun experience to serve customer, making the customer could visit easier Bromo Ijen Baluran Sukamade from Surabaya or Malang in safely and comfortable tour with our tour organize.

We provide several options in combination tour package that combine some of the attraction that the tourist attraction at the same frequented by lokal or foreign tourist an is a favorite tourist attraction in east java, so that by the incorporation of the customers can be more efficient time.

As for the pick up and departure we usually do depart from Yogyakarta or Surabaya or Malang, depending on which option is selected tour packages as well as the end of the trip flight, can drop in Surabaya or Malang or at the port of Ketapang Banyuwangi.

Tourist attractions Bromo Ijen Baluran Sukamade attraction is National Park lokated in east java, where in the course of the tour will pass through coffee plantation, cacao, rubber, suger cane plantation, orange groves. Of several package options this tour you can see and chose and plan options which package to your liking, hopefully some of these options you wish to visit.

From beginning to end we thank you for your time and visit and hopefully this discription useful for us with the hope that good things will come back to us. We wil be answering questions both about the prices, routes and schedules.




Several Package Options.




TOUR BROMO MIDNIGHT.




You can choose the right choice and plan a vacation hopefully you you can visit with family in several National Park in Java. In some of the tourist attraction of each place has its own charm, has a charm of its own therefor for you who already have the opportunity of time and planning to visit the tourist attractions, we are ready to serve your trip with family and friends.

Besides attraction National Park there are a few more places in Malang attractions such as Balekambang beach, Kondang merak beach, Goa cina beach, Sendang biru beach. Malang is the biggest city of Surabaya in addition to being a student city of Malang as well as city tourism.




** For some of the travel package options, we already have a separate standard price, the price may vary depending on adjustments to the inn, if you choose the hotel itself, we can discuss, because besides the price is different, too different locations. **










Overland Yogya Bali 7D6N, 3 night stay in Yogyakarta,
1 night stay in Malang, 1 night stay in Bromo, 1 night stay in Ijen. Including : Car, Driver, Petrol, Hotel / Homestay (Malang Bromo Ijen), Entrance fee 3x, Guide local 2x, Jeep Bromo, Kapal Ferry, Parking and Tol, Mineral. Not Including : Tour guide, Additional meals, Hotel in Yogyakarta, Entrance fee Borobudur Prambanan Kraton Yogyakarta, Hotel in Bali, Tip. Visit point Borobudur, Prambanan, Kraton Yogyakarta, City tour Yogyakarta, Madakaripura, Bromo, Pasir putih beach, Coffee plantation, Ijen creater.
Story
Borobudur Temple is located in Magelang central of java
approximately 40km from Yogyakarta. This temple is a giant pile of stone block with the total height of 42m. Each stone are only connected to each other and stacked. Borobudur has 10 platform, six of them are square and the
base is 123m wide and then topped by 3 round ones and one giant stupa at the top. Every round has many stupas
total 72 stupa laid surrounding the giant stupa. Sitting inside the stupa is Buddha statue with the leg a cross each other with many tipe of hands position, describing many tipe of meditation. It spend over than 55000 m cubic of stone to complete this building, including 504 Buddha statue in total and 2672 relief panels that decorated every single wall in the square platform which is also telling a story about the process of enlightment based on the Buddhist Philosophy of life. To be able to follow the story, you have to start from the east gate and move clockwise.
Package Bali 4D3N, Including : Car, Driver, Petrol, Homestay 3x (Bromo Ijen Baluran), Jeep Bromo, Entrance fee 4x, Guide local 2x, Mineral, Parking toll, Ferry ticket. Not including : Tour guide, Additional meals, Hotel in Bali, Tip. Visit point Madakaripura, Mt Penanjakan, Love hill, Bromo creater, Pasir putih beach, Ijen creater, Coffee plantation, Baluran.
Package Sukamade 4D3N, Including : Car, Driver, Petrol, Homestay 3x (Bromo Ijen Sukamade), Jeep Bromo, Entrance fee 4x,Guide local 3x, Mineral, Parking toll, Jeep Sukamade, D/B Sukamade. Not including Tour guide, Additional meals, Tip. Visit point Madakaripura, Mt Penanjakan, Love hill, Bromo creater, Pasir putih beach, Ijen creater, Coffee and Cacao plantation, Sukamade.
A little story about Sukamade...
Is tourist attraction located in the zone of intensive utilization of National Park, activities can be done is to observe turtle laying eggs, release hatchings, bird watching andcamping. Turtle usually lays its eggs in Sukamade landed and there are four tipes of six species of sea turtle in Indonesia. Sukamade is a protected natural forest in Banyuwangi east java, related to the turtle breeding. Night trip to the beach Sukamade unforgettable. The visitor led by an experienced ranger guides to see the turtles landed to lay their eggs on beaches and sand beaches. Female turtles usually nest to hundreds placed in the sand on the beach. Female turtles usually from shore at 7.30 pm and return to the sea at 12.00 at night. Way to Sukamade very challenging to be explored. Along the way to visit this place visitors can stop at the beach Rajekwesi. Months november to march is a turtle nesting season. If you want to stay and explore in Sukamade, dont forget to bring snack and food, mineral water due to the limited food stock in Sukamade National Park, used body lotion skin, bring flashlight or other lighting tools and back up battery for your electronic (Hand phone and camera). The electricity is available only in the night (17.00 - 5.00), bring sufficient cast money because the nearest ATM is in the town of Banyuwangi.

Package Baluran 3D2N
, Including : Car, Driver, Petrol,
Homestay 2x (Bromo Ijen), Jeep Bromo, Entrance fee 4x,
Guide local, Mineral, Parking toll. Not Including : Tour guide, Additional meals, Tip. Visit point : Madakaripura, Mt Pananjakan,
Love hill, Bromo creater, Pasir putih beach, Ijen creater, Coffee plantation, Baluran.
A little story Baluran. Baluran National park is one of the conservation area in which to have a wide variety flora and fauna as well as having benefits in the form of products for environmental services such as clean air and natural scenery. Baluran in the National Park there are 26 species of mammals : Banteng, Kerbau liar, Kijang, Rusa, Macan tutul, Kancil and Kucing bakau. Animals Bull being the mascot of the national park Baluran. Baluran is africa van java, it is have 25.000 hectare and perfect combination of a mountain view, savanna, coral and white sand beach and many species of plantation and animal all at once. Baluran offers you an adventure in exploring the savanna and the forest, even the wild life of africa van java. The night safari will take you to a challenging experience of the wild night life and unpolluted night sky which will unite the explorer into the nature.
Package Ijen 3D2N
. Including : Car Driver Petrol, Home
stay 2x (Bromo Ijen), Jeep Bromo, Entrance fee 3x, Guide
local, Mineral, Parking toll. Not Including : Tour guide,
Additional meals, Tip. Visit point : Madakaripura, Mt Penanjakan, Love Hill, Bromo creater, Pasir putih beach,
Ijen creater, Blue fire, Coffee plantation.
Package Ijen 2D1N. Including : Car Driver Petrol, Homestay (ijen), Jeep Bromo, Entrance fee 2x, Guide local, Mineral, Parking toll. Not Including : Tour guide,
Additional meals, Tip. Visit point : Mt Penanjakan,
Love Hill, Bromo creater, Pasir putih beach, Ijen creater.
THE IJEN's creater volcanic creater is home to the famous Blue Fire, the blue fire in the creater which can only be seen at night, is ignited by sulphuric gases at a very high temperatur of up to 600 degress celcius and it is the largest blue flame in the world. When the darkness falls an electric blue fire burn at vents near the lake, it is only visible after sunset. Which incidentally is also the time when sulphur concentrations are bearable. Temperature and acidity change, along with visible lake surfase changes such as colour fluctuations or local bubbling or up welling can provide sign of increased activity along with seismic data which are legularly obtained. Also observations by the mine workers can be taken into account, such as increased breating difficulty or dizziness,
suggesting changes in gas compocition or levels. Interestingly reports of birds falling into the lake have also been taken into account when assesing the risk of inpending eruptions.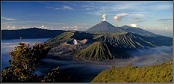 Package Bromo 2D1N. Bromo Including : Car Driver Petrol, Homestay, Jeep Bromo, Entrance fee 2x, Guide local, Mineral, Parking Toll. Not Including : Tour guide, Additional meals, Tip. Visit point : Madakaripura, Mt Penanjakan, Love Hill, Bromo creater.
The story of how the Tenggerese came to live in Mt Bromo. A long time ago there lived a beautiful women the name Roro Anteng, she was a reknown beauty and had attracted the attention of an evil giant, because the evil giant possessed extraordinary magical powers, Roro Anteng dared not reject the giant's advances when he proposed to her. Roro thought of a plant to get a way from the marriage without offending the giant. In order to get her hand in marriage, the giant had to fufill her wishes. Roro then concocted a difficult request in hopes that the giant didn't have the power to fufill it. She had asked him to make her a sandy desert in between the mountain in one night and before the break of down. Unfortunately for her, the giant magically and swiftly begin to work his powers and was near completing her wishes. The fast thinking Roro Anteng quickly though of an idea to disrupt the completion, she made all sorts of noises that woke up the roosters. The roosters began to crow bringing dawn in.
On hearing the roosters calls, which signalled the break of dawn, the giant was shocked for having failed his task.
Frustrated, he threw the coconut shell that he used to dig the desert, the shell fell to the ground beside mt Bromo, forming what is now knows as mount Batok. The sandy plain was to form the tengger caldera.
A long time ago during the reign of the last king of Majapahit Brawijaya, one of the king's wives gave birth to a girl who was named Roro Anteng. Later this young princess married Joko Seger who came from a Brahma caste. Because of an unfortunate situation the couple was forced to leave the kingdom. They settled down in the mountain area. They ruled the area and named it Tengger which was derived from the couples names Roro Anteng and Joko Seger. After several years the region flourished in prosperity, but Roro Anteng and Joko Seger were unhappy because they didn't have a child. They climbed the top of the mountain and prayed night and day hopping that the gods would listen. The prayer was heard and Betoro Bromo promised them many children. However, the couple had to promise that they would sacrifice their youngest child in return. Roro Anteng gave birth to a child then another and another. In the end Roro Anteng and Joko Seger got 25 children. Soon it was time for them to sacrifice the youngest child, Kesuma, but the parent just could not do it. They tried to hide the child but an eruption happened and Kesuma fell into the crater. There was silence before they heard a voice : I have to be sacrificed so that you will all stay alive. From now on, you should arrange an annual offering ceremony on the 14th of Kasodo. Kesuma's brothers and sisters held the offering ceremony every years. Instead of a human being, these people collected fruit, vegetable, rice and meat to be offered to the gods and this has been done generation after generation until today.
Traveled is good moment sometimes by some people some things awaited and event planned, sometimes jointly planned or sudden event but whose name traveled it is will be fun.
In addition to eliminating boredom traveled to relieve a bit of pressure in work situations so that the traveled will get a new spirit.
Here is a little description of
Tour Packages Backpackers.
PHONE SERVISE :
+6281249781542. (WA)
+6281553588535.
kotakzaini@gmail.com